Unlike most Japanese resorts, the Hakuba Valley hosts a thriving après ski scene. Whether you want a hot bowl of ramen noodles, or to dance the night away, part of the Hakuba Valley's charm is its wide variety of evening activities. If a day on the slopes doesn't slow you down, izakaya-style pubs, bars, dance clubs, and restaurants of all kinds are waiting for you.
The weather gradually gets warmer in March, and it's a fun time to chat with friends and family while basking in the sun or sipping on a drink on a ski slope. In addition to the ski slopes, you can go for a swing around the resort during your stay and engage in various activities such as relaxing in the hot spring, enjoying outdoor sports or taking a stroll through town and admiring the spring flowers. The ski season in Hakuba Valley lasts until early May, but the cherry blossoms begin blooming in late April, so you can also enjoy other outdoor activities like cycling and rafting.
---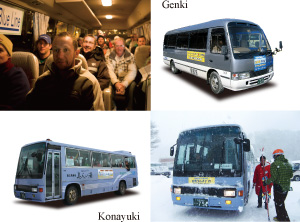 The night shuttle bus "Genki" (Hakuba) and "Konayuki" (Otari) run during the evening in winter. These buses visit recommended sites in the Hakuba Valley and are very popular.
*Please check the routes, fares and timetables for this season on each area's website.
Copyright © Tourism Commission Of Hakuba Village & Otari Village Tourism Association. All rights reserved.